Complete solution
EASY TO USE
(Hotel + Gastro + Bookkeeping)
Very simple and quick training in using our HMS system. Constant new functionalities adapted to the local community and legal regulations. Guest reports, rooms, financial reports, residence tax records, integrated restaurant solutions, coffee shops as well as other extra-parking services (parking, conference rooms, swimming pools, spa etc.)
Novo
Free new functionality
Full interface flexibility
Full interface flexibility
Ease of use is one of the main advantages of our HMS system.
Our system provides you an optional integration with our bookkeeping and POS system and connection with a restaurant or mini-bar.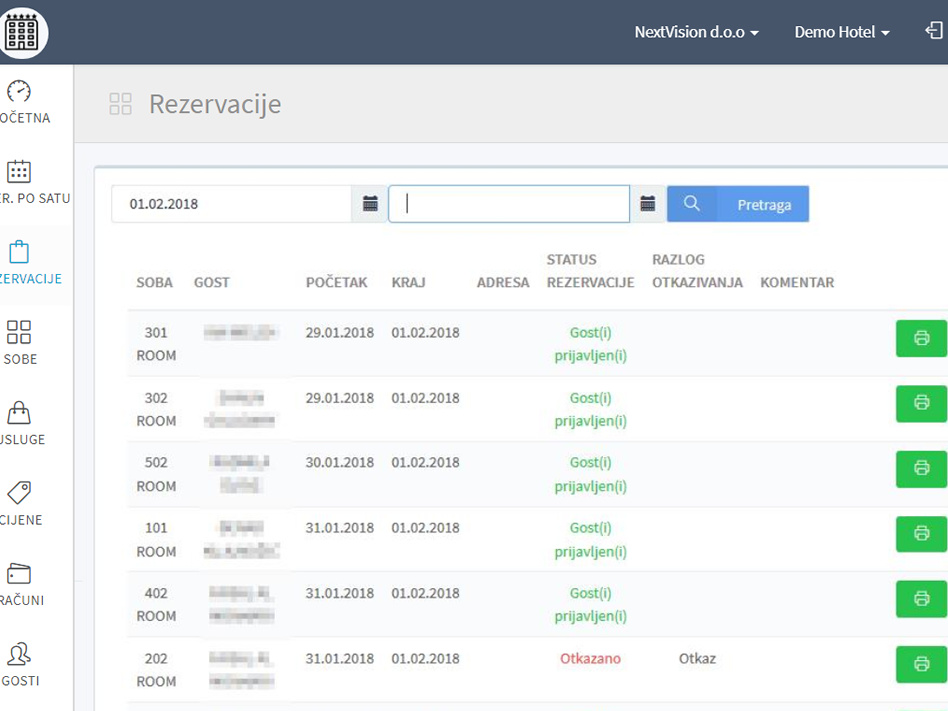 ACCOUNTS
Full account insight

REPORTS
Detailed status reports

Administration
Detailed status reports

codebooks
Detailed status reports

Services
Detailed status reports

guests
List of guests and activities
Characteristics
Speed, transparency, intuitive ...
High quality
High quality of a system and service
Productivity
Increases employee productivity
Updates
Updates for the entire duration of the system
Integration
Our HMS strives  at full integration and synchronization with the world's largest booking systems. Send an inquiry regarding the booking system your property uses. Reduce the possibility of overbooking to a minimum.
airbnb.com
Integration with airbnb.com
Booking.com
Integration with booking.com
If you are interested in any of our products, please contact us.
Address
Kolodvorska 11A, 71000, Sarajevo, Bosna i Hercegovina
Phone/Fax
+387 33 714 400
+387 33 714 401